[igp-video src="" poster="https://www.talesfromthewild.com.au/wp-content/uploads/2018/05/32382370_196576474489938_1831452700160557056_n.jpg" size="large"]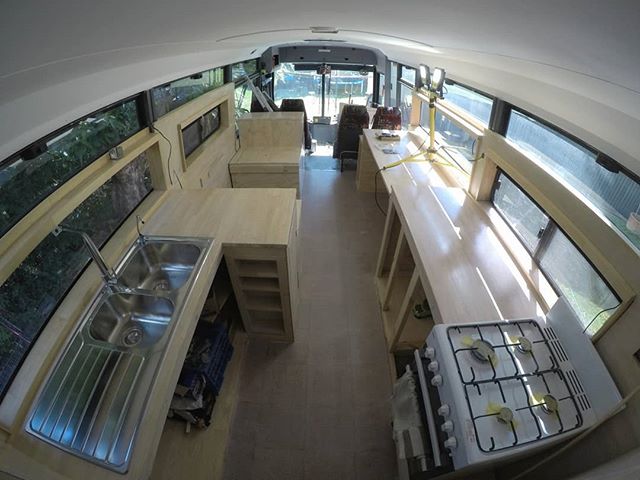 The kitchen and living areas of the bus. The second shot shows this same space with the block-out roller blinds lowered. All windows in the bus including the passenger and driver side windows (but excluding all the top hopper windows) are now fitted with these reasonably priced blinds (sourced from Ikea). A special thank you to @littleearthstories for juggling multiple other tasks and deadlines to cut all of the blinds to size prior to installation. We have chosen black blinds throughout and we think that they look great!
Last week I boldly declared that we were nearing the completion of Stage One. And whilst it's true that we are, there is still much work to do before we reach that goal. I've spent the past week sealing the cork tile floor (with a liming white floor finish), plumbing, wiring, and working on the battery/power room underneath the bus. It's been a big week with many late nights again. We also discovered to our dismay that one half of our windscreen has cracked this week (from a pre-existing stone chip). I'm guessing that all my work on the front door frame last week probably triggered the cracking. So next week we'll seek some quotes and aim to get that glass replaced (if not too expensive). This weekend I'm planning to (finally) complete the kitchen cupboards and countless little 'finishing jobs' that I've been avoiding around the bus.
#busconversion #buslife #bus #tinyhouse #skoolie #skoolieconversion #vanlife #offgrid #busbuild #rvlife #busnut #busrollwithit #livesmaller #nomad #happycamper #wander #wanderlust #homeiswhereyouparkit #ontheroad #buslifeaustralia #buslifeau
View the original Instagram post. Follow us on Instagram at Tales From The Wild.