[igp-video src="" poster="https://www.talesfromthewild.com.au/wp-content/uploads/2018/05/31752487_734958923559398_5293470527153766400_n.jpg" size="large"]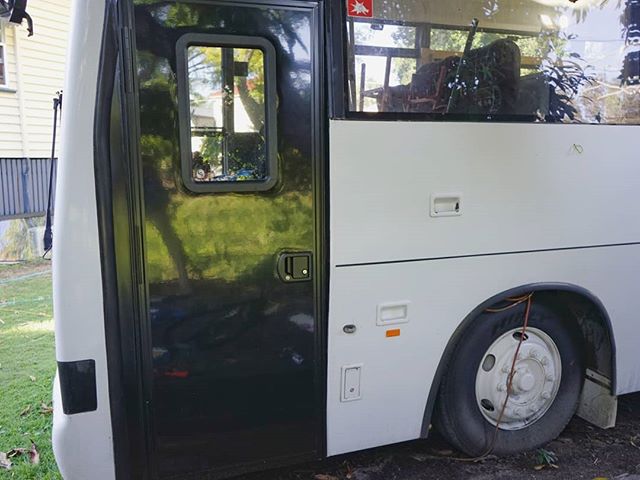 Another big week in our bus conversion project. Stage One is nearing completion, which is rather timely as we have this week exhausted the last of our project funds on a new front door (gulp). Stage One is to have the bus to a 'livable in caravan parks' standard, so that we can sell the house, move into the bus and start planning for Stage Two (the full off-grid and self contained set up). I've been avoiding the front door for six months now. Our existing bus door did not meet the specifications for motorhome registration (door must open outwards). The door was difficult for the children to manually open/close and it has also never locked. My original plan was to build our own door (or buy a security screen and adapt it) but in the end we went took the plunge and bought a proper RV door. It wasn't cheap but it seems very solid and secure, it's a good height for tall people and it has a secondary flyscreen door on the inside. The existing door opening on the bus was a strange shape and size (with lots of merging angles) but we managed to build a solid door frame (with H3 structural pine, sealed and painted black) in the space to properly accommodate the new RV door. We completed the sheeting around the door frame with some leftover black aluminium composite panel pieces. We're stoked with the outcome! The door looks a million bucks and Bronte the bus now feels like a limousine for rock stars!
#busconversion #buslife #bus #tinyhouse #skoolie #skoolieconversion #vanlife #offgrid #busbuild #rvlife #busnut #busrollwithit #livesmaller #nomad #happycamper #wander #wanderlust #homeiswhereyouparkit #ontheroad #buslifeaustralia #buslifeau
View the original Instagram post. Follow us on Instagram at Tales From The Wild.