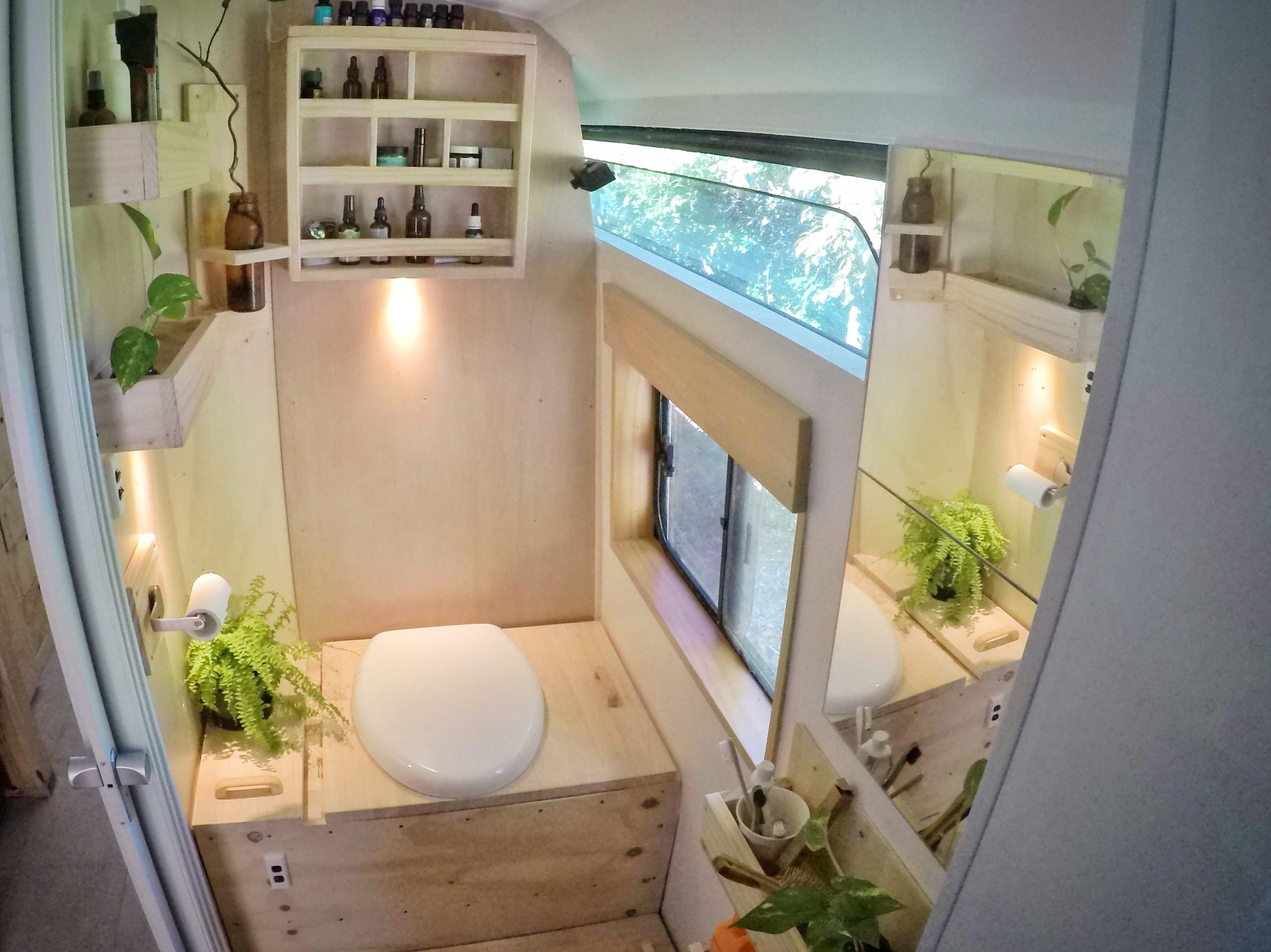 There's a home made composting toilet in our bus and it's really pleasant to use! In fact we like our bus toilet a lot more than our normal house toilet! The whole toilet set-up cost us less than $150. It's basically a timber box with a toilet seat, a urine diverter in the 'bowl' to divert liquids to a tank underneath the bus and a 20 litre bucket for the solids. We start with a base layer of coconut coir in the bucket and add a handful more after each use. There's a tiny extraction fan connected to the bucket. It runs 24 hours a day but is so quiet that we can't actually hear it. With the fan running, there are no smells whatsoever in the bathroom area. The commercially available composting toilets usually have a hand cranked mixer for the solids compartment but alas, ours is not that advanced. Instead some lucky bloke (that's me) has to mix the bucket and turn the compost over with a garden trowel. But I don't mind! The toilet is very much going to be an ongoing experiment. Disposal of the composting material is one area of the project that we are still investigating. Ideally we'd love to bury the compost in a garden or around a tree, but it takes considerable time for pathogens in the compost to die off. We are planning to rotate a few buckets through the system and will see how the composting process goes. Stay tuned for updates on this fascinating subject! ~ Keiran.

#busconversion #buslife #bus #tinyhouse #skoolie #skoolieconversion #schoolbusconversion #vanlife #offgrid #busbuild #rvlife #busnut #busrollwithit #livesmaller #nomad #happycamper #wander #wanderlust #homeiswhereyouparkit #ontheroad #buslifeaustralia #buslifeau #mybuslife #buslifeadventure #livingtinyproject #compostingtoilet
View the original Instagram post. Follow us on Instagram at Tales From The Wild.